Nimbus Theme Review – Nimbus WordPress Themes 2014
Nimbus Theme Review: Nimbus Themes is a new premium WordPress shop run by husband and wife team Evan and Kendall Scoboria. Based in Kansas in the United States they run a boutique web design company and have created Nimbus Themes as a marketplace for users to access their WordPress themes with support for a low monthly fee. According to their website Nimbus Themes are committed to "provide the very best, most elegant, unbelievably responsive, fastest loading WordPress themes with the most friendly helpful support". That's a big claim and a lofty goal!
The Themes of Nimbus
Nimbus Themes currently have 6 WordPress themes available, all of which have mobile responsive designs and the usual features, backend control panel and customization options you would expect to find in a premium WordPress theme. The newest theme "Simple Theme" looks quite flexible and modern. The other themes would probably also make good platforms to build on, but the designs look a bit dated and perhaps don't have the level of refinement and attention to detail one would expect in a new premium WordPress theme.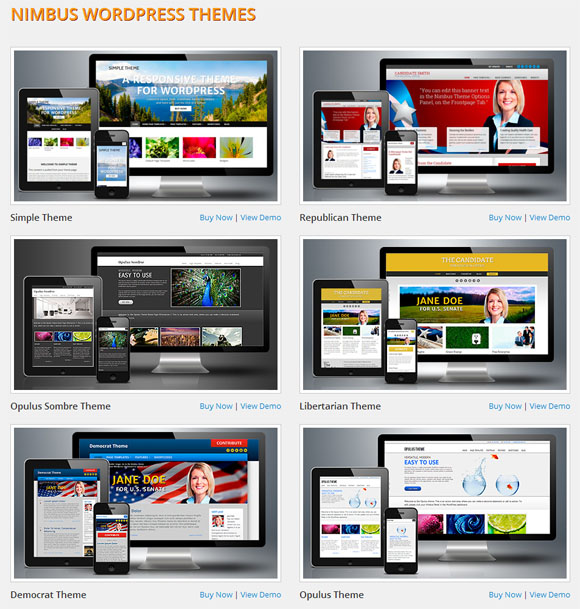 Nimbus Theme Review: Licensing
All the WordPress themes from Nimbus Themes are licensed under the GNU general public license.
Nimbus Theme Review: Pricing
Themes can be purchased individually for $29 (1 theme, 1 year support and updates), while they also offer a Club Membership option for $9 per month which gives you access to all themes, support and updates. For this theme, I see that they gave out a reasonable price. It is good to purchase.
To learn more about Nimbus Themes, the features of each theme and to try the live theme demos visit NumbusThemes.com